Summer Nanny Placement Special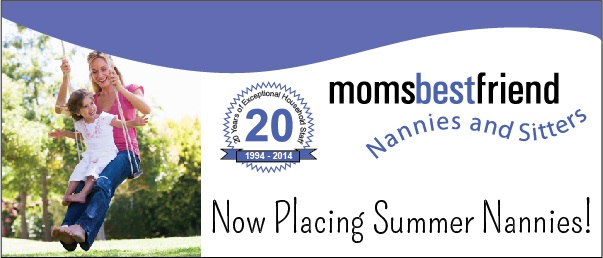 The kids are almost out of school and the summer hustle and bustle will soon be in full swing. It can be overwhelming, not to mention exhausting, trying to keep up with all of your children's summer activities. Hiring a summer nanny can help relieve some of the stress that goes along with this time of year. Your MBF short-term summer nanny can take your children on adventurous and educational field trips, shuttle your kids to various camps and sporting events, and keep your kids entertained all summer long!
Summer Nanny Placement Special
$300 off your short-term placement for
June, July, August!
Placement Fee: $900
(12 weeks, normally $1200)
Contact Laura Curtin at 847.960.3962 or laura.curtin@firstclasscare.com to learn more about hiring one of our exceptional summer nannies!
2 Free Date Nights When You Hire a Summer Nanny!*
Hire a Summer Nanny and get two date night agency fees with your short-term (3 month) placement!
*Half-day agency fees only; sitter pay not included. Placement must be completed by June 1, 2016. Mention code: NLSW16