Guest Blogger: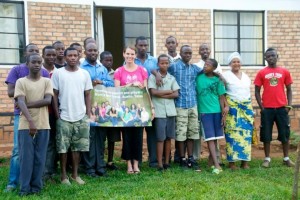 Laura Patterson, Director of Customer Relations
When I started working at Mom's Best Friend I was 24.This past April I celebrated my 10-year anniversary at this company where I have worn many hats, learned many things about business and the household staffing industry, seen co-workers come and go, but the ones that have remained have become family to me. Upon my anniversary, I received a one-month sabbatical. I realize what a wonderful and amazing treat this is. After 10 years of hard work, to have one month to rest, relax and explore other areas of my life is truly a gift beyond explanation.
After a bit of soul searching this past year, it became clear that the doors were opening for me to take an 11-day vision/mission trip to Rwanda with Africa New Life. My purpose was two-fold: I would represent Mom's Best Friend and also take a trip for myself. At one point I considered a yoga retreat in Costa Rica (will still do this some day!) but I felt that at this point in my life, I needed to go on a trip that was NOT about me.
Mom's Best Friend pledged to Sponsor a home of Street Children for one year. I was able to visit the home and individually meet the eighteen boys who live there. I brought cards for each of them, a poster of the Mom's Best Friend staff, and was able to let them know we are thinking of them and support them! As they introduced themselves one by one, tears of joy built in the corners of my eyes. Just a few short years ago, these boys were on the streets with no home and no family to care for them. They had minimal access to food and only the clothes on their bodies. Now, their basic needs are cared for and they speak amazing English. They live in a wonderful bunk-bed dormitory with a sweet house mother who truly loves them. During the day, they attend classes and learn vocational skills that will allow them to find a good job and earn a great living. They spoke of their journey and how Africa New Life had changed their lives, and what they dream of becoming: singer, teacher, builder, even President! They have joy and hope in their hearts and have the ability to DREAM!
Returning to Austin was a bit of a transition. To say that we are blessed is a gross understatement. The people I met and the things I saw and experienced will forever be imprinted on my heart. On those days when I may feel the urge to feel a bit sorry for myself (for whatever reason!) I just shut my eyes for a moment and these images come rushing back. The children of Rwanda have reminded that sometimes our circumstances may make us feel defeated, but we are not! We have to dig deep into our hearts but there is always joy, hope and a chance to dream!