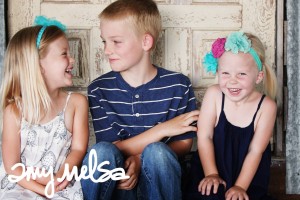 'Tis the season of holiday cards and family photos, so we've enlisted professional photographer Amy Melsa to write this guest post for you. Enjoy!
Throughout my 10 years in business, I have photographed hundreds, maybe thousands, of children of different ages and different personalities. I have picked up a number of tricks of the trade, and I want to share these 9 tips to greatly increase your chances
of getting the best shots of your kiddos!
1. Learn how to use your camera!
Take your settings off Automatic and onto Manual. When you learn how to adjust your ISO, shutter speed and aperture you will be able to take pictures in all different situations, whether you are at a sporting event or inside a house with dim lighting. If you don't want to sit down and read your manual, sign up for a beginner class, search google or pinterest, or check out the gazillion other photography websites out there!
2. Lighting! Lighting! Lighting!
Play with your lighting. Learn about it. Photography is ALL about lighting. My favorite time to photograph outdoors is either right after sunrise or an hour before sunset. Lighting makes all the difference in how your picture turns out.
3. Take tons of pictures.
We are in the digital world. You can take hundreds of pictures without it costing a penny. Click away and you are sure to find a great shot in the mix!
4. Think outside the box.
Get on the ground or get a bird's eye view. Don't always stand right in front of the subject at eye level. Get all different angles and have fun!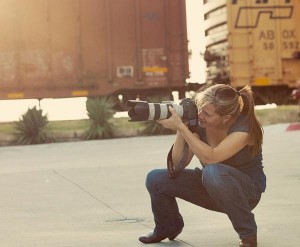 5. Don't let them know you're taking their picture.
Some of my clients' favorite pictures are when they are just hanging out, primping, or playing, and they don't realize that I am photographing them.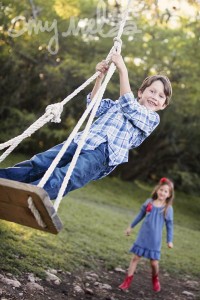 6. Play a game and stay active while photographing.
This is a great way to get natural expressions and have fun! Play Simon Says, or chase each other. Get them moving. Most kids I know don't like to sit and smile.
7. Don't EVER tell your child to smile at the camera.
Seems counter-intuitive, right? Instead get an authentic smile by telling a funny joke, becoming the "tickle monster" or whatever you can do to get that real-deal-smile.
8. Go for the "capture" versus the "perfect image".
When I first started out I would trash any image that wasn't super sharp or didn't have perfect exposure. As I have learned and grown, I realized that capturing a subject's true personality and/or expression is far more important than it being a perfect image.
9. Use a reputable lab when printing.
I know Walgreens and WalMart have great prices, but I am telling you that it makes a big difference! I recommend using Mpix.com. They are affordable and have a great variety of products. If you are going to go low budget and/or you need them quick, I'd recommend Costco over the other alternatives.
I hope these tips help you when photographing! Go and capture away!
–Amy Melsa, Amy Melsa Photography