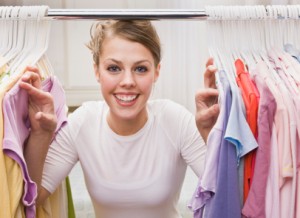 How about starting off the year by creating more space in your life for the things that truly matter? Here are some practical ways to help you get the year started in a way that will positively impact your life and your family in 2015.
Declutter
"The more you have, the more occupied you are, the less you have, the freer you are." –Mother Theresa
Gather 2 large baskets or bags to use as you go through your rooms. The 1st is for
giving away/donating and the 2nd is for items to throw away (broken toys, clothes with holes, etc.). Consider the phrase, "If you don't like it or use it – lose it". Make sure each bedroom has a laundry basket, or kids have easy access to a central laundry space – I find that a lot of my family's clutter is dirty clothes!   This is a great project for your nanny to help with.
Organize
"If only organizing my life were as easy as pinning things about organizing my life." –Unknown.
That said, we have lots of great tips and ideas on simplifying, organizing and decluttering on our Pinterest boards: Simplifying in 2015 and Organizing Made Easy. Taking the time to be organized will help minimize the time you waste looking for things. All that extra time can be spent having fun with your family! You will be able to enjoy your home more and feel less frazzled. Have fun with cute labels and containers!
Meal Plan
"People who love to eat are always the best people." –Julia Child
Create a weekly or monthly calendar with your nanny. Research some good, quick, simple meals you can make in advance (ask your friends – they love to share). Double the recipe and freeze 1 for another night. Schedule 1 day a week or every other week to grocery shop. Stop going daily. The best time to shop is weekdays around 7-8pm or weekend mornings. The worst time is weekday afternoons. For printables and recipes, check out our Pinterest board.
Check out our meal planning Pinterest board with printables and recipes.
Learn to say no!
We talked about this around the holidays, but the principles are the same all year long. Say no if:
It isn't in line with what's most important in your life and your values.
It is going to cause added stress and it's something you don't have to do.
It is going to take time away from your family.
Slow down and be present!
Drive slower. Enjoy the scenery.
Eat slower. Truly taste the food.
Sit and be still. Breathe.
Delegate
Create a chore list for your kids (this helps you AND teaches your children to develop their work ethic).
Hire someone to do the yard work. If your budget is tighter and your yard is manageable, hire a teenager to do the work.
Hire a housekeeper to help keep the house tidy. You can hire anywhere from every other week (temporary service or referral from a friend) to part or full time every week (through MBF Household Staffing) depending on your needs.
Hire a nanny, occasional babysitter or personal assistant to help get everything done.  We would love to help you find the perfect fit for your family. 

800.204.2681
I hope these tips help you to get the year started off in the right direction.  Make your values a priority, and create your schedule around that.  2015 is going to be a fabulous year!!