Are you dreading the summer months because you know you'll soon hear "I'M BORED" over and over again? Start planning and preparing now for a memorable, fun-filled summer with your children. We have plenty of ideas that will give you an easy response when your kids are looking for something to do.
Create an activity jar and fill it with fun, simple activity ideas. Have your children draw from the jar anytime they're bored and looking for something to do, or make it a daily activity. Use our list of Anti-Boredom Jar Fillers, and don't forget to throw in some random acts of kindness!
Sign your kids up for camps. While this can take some advance planning and research, there are still many local area camps with open registration such as the fun full-day and half-day camps at Balance Dance Studios in Austin or Memorial Dance Center in Houston.
Join a play group. If you can't find one close by, then start one in your neighborhood!
Read, read, read. Hit the local library weekly to stock up on books and reading materials.
Explore your city. Take a stay-cation, research historical spots near your home or try to find the best sno-cones in town. Getting out and about doesn't have to be expensive if you research free or low-cost summer activities!
Have your children make a weekly plan of themed activities using the printable schedule below.
Call in help and hire a Mom's Best Friend summer babysitter. Our sitters are energetic, fun and experienced. They are more than willing to plan activities and field trips for your kids when you need a day off!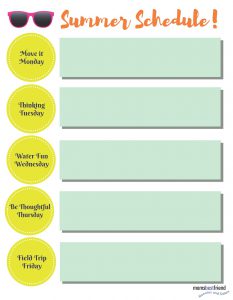 SUMMER SCHEDULE PRINTABLE
Enjoy this FREE printable from Mom's Best Friend. Print, laminate and fill it in each week with a dry erase marker!
Move it Monday: Take a hike, enjoy a yoga class together, rent a kayak, play outside
Thinking Tuesday: Go to the library for books and reading time, take a tour of a museum, learn something new
Water Fun Wednesday: Head to the local pool, set up a slip-n-slide or sprinkler, make water balloons
Be Thoughtful Thursday: Visit a nursing home, volunteer at an animal shelter, think of some random acts of kindness
Field Trip Friday: Take a day trip, go to the movies, visit an amusement park