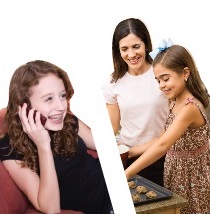 Often times, we speak with families who may experience a little bit of sticker shock when we talk about our babysitter pricing. We often hear things like, "I can pay the girl down the street $8-10 per hour" or something of the like. However, once they talk with us, and then utilize our services, they realize the value and differences we truly provide. Here are some advantages of a babysitter with Mom's Best Friend:
Caregivers are at least 19 years old (with our average age being late 20s to early 30s), so they are much more mature than a middle school or high school sitter
All caregivers are CPR/First Aid trained
Babysitters are experienced, and we've made sure that their childcare references are stellar
Extensive criminal background checks (including a sex offender search) has been completed on all caregivers, and we re-run our background check on an annual basis
Caregivers have their driver's license, their own transportation, and a completed motor vehicle records check
Mom's Best Friend babysitters have completed our customized training, encouraging fun, creativity, responsibility, and professionalism, and specifically prohibiting calling/texting on the job, using TV/video games to entertain the children, etc.
You can utilize Mom's Best Friend services on vacation, as we have multiple offices in cities across Texas and Colorado
Babysitters are available 7 days a week, including sick care and holidays
Sometimes our families try us as a compliment or backup to their regular sitters, and if you have any hesitations, we encourage you to do the same. However, after finding our babysitter service extremely professional, convenient (one call and we schedule a wonderful babysitter), and a great value, most families begin to use us as their primary babysitter source.
Explore our babysitter service: Austin | Dallas | Fort Worth | Houston | San Antonio | Vail / Beaver Creek | Aspen