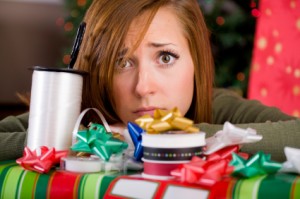 This season can be such a whirlwind of parties, school holidays, and family time. We so encourage you to spend this time enjoying the season instead of letting the potential stress outweigh the joy. Here are some tips I have found helpful:
Remind yourself about what the holidays are about. Spend time with your loved ones and be grateful for your blessings. You are creating memories and

traditions. Let your children help with the decorating (here's a fun kid-friendly decorating craft to try) and the cooking/baking (here is an easy treat that you can make together). Set the mood. Turn up the music, make some hot chocolate, and have a holiday movie on in the background.

Don't try to be a perfect host when you entertain. Remember the mantra, "I am here to bless not impress". Stress is self-imposed, and unless Pinterest is your passion, you could become overwhelmed with finding/making the perfect decorations, cooking the perfect dishes, etc. I remember spending hours and hours creating decorations for a company event we threw a while back. When we asked people what they thought of the decorations, many answered that they didn't even notice them! Your guests will remember the people they talked to and how they felt – not the minute details. And don't be afraid to ask people to bring a side dish, a dessert, or drinks!
Just say no. Is your calendar already filling up with events? Prioritize what is most important to you, and what you will have to politely decline. Leave space for time to be home and enjoy your family.
Find ways to give back and serve others. There are so many opportunities to donate and volunteer this season. This is worth carving out some time. When you give back to those that are far more in need, it really puts all of the materialism and commotion of the holidays into perspective.
Hire MBF Sitters. Don't drag your kids around running errands, or set them in front of screens while you work. Hire an MBF sitter to entertain your children instead! When you have to hire a babysitter for parties, shopping, working, cleaning, etc., you will have peace of mind knowing that Mom's Best Friend will send you a fully screened, background checked, experienced, and FUN sitter! (We also may even be able to help with one-off personal assistants, housekeepers, chefs, etc. Contact us if you are interested!)
From time to time, I certainly get caught up with finding the perfect dress for a party, or buying a perfect gift for those special someones in my life, but as often as I can, I try to keep these tips in mind.