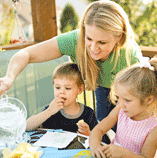 Summer is right around the corner! Do you have a plan for childcare yet? Now is the best time to start interviewing nannies if you are seeking consistent in-home care for the summer months. Many college students, graduate students and teachers are looking for a short-term position during their time off, but be aware that many great candidates are hired well before the end of the school year in June.
A Summer Nanny can help make your children's summer fun-filled and your summer life easy!
Here are a few reasons to opt for an in-home Nanny this summer. Your Summer Nanny can:
Drive your kids to camps, activities and all the fun places they want to go
Plan "field trips" and fun adventures for your children based on their ages and interests; there are many great low-cost or free activities during the summer months and your Nanny can be in charge of researching these things weekly to create a personalized schedule of activities that your children will love
Get the kids outdoors and encourage active play instead of days in front of the TV; even better, your Nanny can attend play dates with neighbors and friends
Travel with your family as needed (it's best to discuss travel requirements during the interview process)
Keep children on a consistent schedule during long summer days, which is especially helpful if you work full-time
Help out around the house with tidying up and light housekeeping duties related to your children
Entertain the kids while you work, get things done or just relax
Need I say more?! A Summer Nanny is a smart investment for your sanity and your kids will love it!
Mom's Best Friend hand-selects exceptional nannies and babysitters through our 10-step screening process. We would love to help your family find the ideal fit this summer!
Learn more about hiring a summer nanny!
Austin | San Antonio | Houston | Dallas/Fort Worth | Chicago